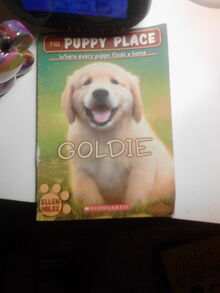 Golden Retriever
Forever Family
Edit
Sammy's family, the Peterson's next door neighbors
Personality
Edit
Goldie is a smart, 10-week-old puppy. She loves running around and is a fast learner. She learns commands and is housetrained very quickly. Goldie loves her "puppy brother" Rufus, and gets the old dog running again.
Goldie(book) by Ellen Miles.
Ad blocker interference detected!
Wikia is a free-to-use site that makes money from advertising. We have a modified experience for viewers using ad blockers

Wikia is not accessible if you've made further modifications. Remove the custom ad blocker rule(s) and the page will load as expected.